Kt Kingtronics Indian Distributor On "ELECTRONICS BAZAAR"
Kingtronics India distributor Avani Electronics was published in latest issue of Indian leading magazine "ELECTRONICS BAZAAR ". They have great business success by promoting and selling our trimming potentiometer in his country!
We welcome more and more potential distributors help us promote our products and win long-term market business return together !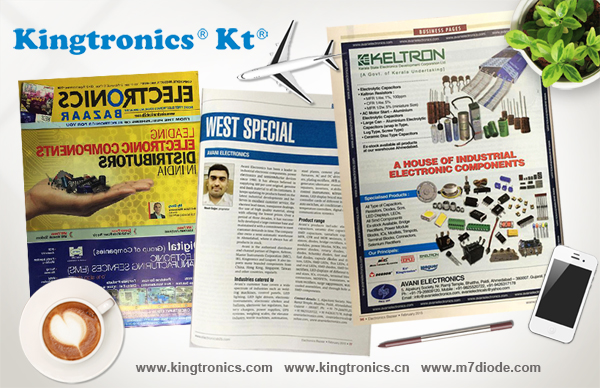 RKT—Trimmer Potentiometer & QKT—Quartz Crystal
http://www.kingtronics.com/trimming-potentiometers/
TKT—Dipped Tantalum Capacitor & MKT—Radial Multilayer Ceramic Capacitor
http://www.kingtronics.com/mlcc-capacitors/
Diode & Bridge & Tranasistor: M7, S1M, SM4007, BAV99, LL4148, BZV55C, BZX55C, BZX84C, MB10S, DB101S~DB107S, BC807, BC817, BC846, BC857, MMBT3904...
http://www.kingtronics.com/diodes-rectifiers/
Supplier Company: Kingtronics International Company www.kingtronics.com
ISO 9001: 2008 manufacturer, 2 factories, ISO & UL & SGS certified